Throssell St 011, North Perth (Also known as 013)
Construction
11 Throssell Street is a 2 bedroom, 1 bathroom house
Land size 893 ㎡
Floor area Unavailable
Year built 1935
Protected?
Text
Architecture
Also been referred to as 12 and 13 Throssell Street.
Officially referred to as 11 Throssell Street in 1942.
Residence
1926: Alfred, Annie, Bert, Cecil & Thelma Povey.
1926: Mrs Francis Stevens
1936: Herman and Kath Kuring (Pat)
Social History
Alfred B. Povey LTD - Locally Made Mattresses
Herman August Kuring, who was born in Ulina, Victoria in 1895 of German descent, served with distinction in the Australian Army during World War I. During World War II, he rejoined the armed forces, becoming the Commanding Officer of the 10th Garrison Battalion on Rottnest Island. In 1941, while carrying out his duties on Rottnest Island, he disappeared, leading to rumours he was a German spy. He was officially presumed drowned.
Photos
Thelma Povey.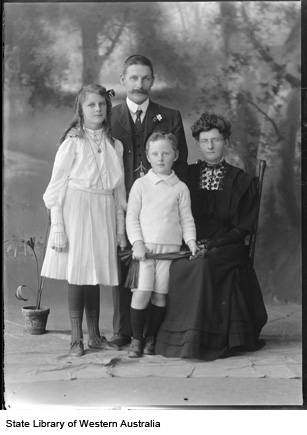 Povey Family.
Research Links
A. B Povey, Jul 1931: https://trove.nla.gov.au/newspaper/article/32360923?searchTerm=%2211%20Throssell%20Street%22&searchLimits=l-state=Western+Australia
L Stevens, Feb 1935: https://trove.nla.gov.au/newspaper/article/32840475?searchTerm=%2211%20Throssell%20Street%22&searchLimits=l-state=Western+Australia
Pat Kuring, May 1936: https://trove.nla.gov.au/newspaper/article/84224131?searchTerm=%2211%20Throssell%20Street%22&searchLimits=l-state=Western+Australia#
John Goodridge, August 1950: https://trove.nla.gov.au/newspaper/article/47880188?searchTerm=%2211%20Throssell%20Street%22&searchLimits=l-state=Western+Australia
Herman Kuring Files, https://recordsearch.naa.gov.au/SearchNRetrieve/Interface/ViewImage.aspx?B=5874405
https://trove.nla.gov.au/newspaper/article/46433626?searchTerm=%2212%20throssell%20street%22&searchLimits=l-state=Western+Australia
page revision: 18, last edited: 17 May 2018 07:52